Roberta's Bridal is one of Saffordshire's only true bridal experts.
We are very proud of our expertise and truly believe that the only way to help you find your dream gown is through listening to you.
Our doors have been open for over 15 years and we truly believe that the experience and service you receive is as important as the dress its self. Our main aim is to make you feel amazing and comfortable when in store with us. We believe that your experience should be yours and yours alone so our dressing rooms are completely private with comfortable sofas for your family and friends. Our experienced consultants absolutely love what they do and cant wait to help you find 'THE DRESS' and to be part of your journey.
Our Lovely Staff…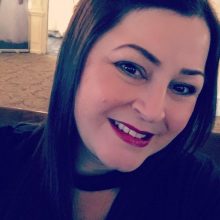 Kelly…
I'm the owner and all around opinion giver. I've been doing this since 2006 and am much better dressing others than dressing myself lol!
Fun fact about me…
I'm a self confessed stalker of a band called New Kids on the Block. (Mum's will know. Everyone Google it – or watch them in action
here
)
Dream honeymoon destination… Well that's got to be my own honeymoon. We went on a Caribbean cruise with Celebrity Cruises. It was amazing. Although I wouldn't suggest flying out the morning after your wedding I was like a walking zombie with hair that wouldn't brush out. Not the most glamorous start to the honeymoon.
I often get asked what I love best about my job, well that's easy! It's you brides. I love how excited you are about your weddings. It's infectious and I love feeling really involved in such an important decision.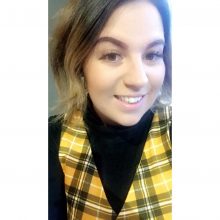 Finlay
Also known as the camera shy one, any one who's seen our Facebook Live's will know she sprints off as soon as the camera is pointed in her direction. We joke she could give Usain Bolt a run for his money lol
More seriously though, Finlay has been with us now for 5 years, she's an absolute Gem and the backbone of the store. She loves working with her brides to find their perfect dress, she makes the appointments great fun and really listens to what you want.
Fun Fact… Fin is a trained hairdresser so don't forget to ask her opinion on all things bridal hair,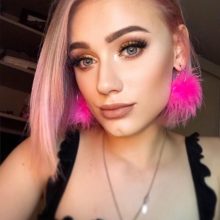 Amy
Amy is our self confessed wild child, we have a bet in store to see what hair colour she has next. its anyone's guess! Amy is our social media queen, you'll find her on Tiktok doing her best acting and she loves being the face of our social media.
She's super outgoing and has an eclectic taste, this means she can often pull out a 'wild card' that just fits the bill when helping a bride find their perfect dress.
She's a great listener and extremely passionate about all things bridal, she loves a good Pinterest board and she will love listening to your wedding plans so she can match your gown to your personality and your wedding.
Fun Fact... Amy is obsessed with Blue wedding dresses!