The Roberta's Bridal experience
Creating your unforgettable "this is the one!" moment
While we like to keep the focus on the bride-to-be (it's your special day, after all!), we know it's important that you feel a connection with your bridal store – so here's a little about us.
Roberta's Bridal is one of Staffordshire's only genuine bridal experts. We offer our brides and their guests a fabulous range of designers and styles to choose from and try on in our Burslem bridal store.
But it's not just about finding your dress – it's the whole experience that begins the moment you step into the store.
Our team of experienced, passionate stylists are the perfect matchmakers to introduce you to your dream dresses. Guests are invited to relax in our private fitting suite, ready to be wowed when the bride-to-be steps out from behind the plush, silver curtain.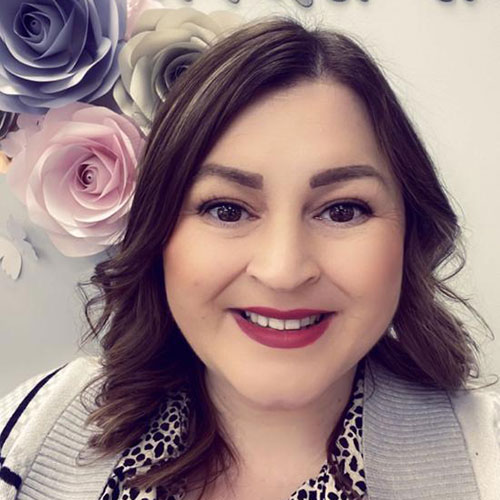 Kelly
Kelly is the beating heart of Roberta's Bridal. She absolutely adores supporting the brides, hearing their unique love stories, and creating magic "Omg, this is the one!" moments.
Since establishing Roberta's Bridal in 2006, Kelly's helped over a thousand brides find their dream wedding dress at her Burslem store. She loves sharing in the rush of excitement and energy brides experience as they try each gown, getting closer and closer to the one.
While Kelly has a huge amount of experience as a bridal stylist, the first thing she does when chatting to a bride is to listen. She helps brides discover what they want first and foremost, before offering expert style guidance and recommendations that's attuned to the bride's vision.
For Kelly, the thing she loves most about being a bridal stylist is helping brides be the very best version of themselves. It's about finding the kind of dress that makes a bride feel confident, beautiful and empowered when they walk down the aisle.
When it comes to her own tastes, Kelly is a self-confessed magpie and loves anything with a touch of sparkle or colour. She wore a blush pink A-line gown to her own wedding and while she felt truly beautiful that day, she didn't feel quite so glamorous flying out to her Caribbean honeymoon the morning after!
Finlay
Creative, empathetic and with impeccable taste, Finlay is passionate about making each and every bride that comes through the door at Roberta's Bridal has an overwhelmingly positive experience.
Having joined Roberta's Bridal in 2017, Finlay has been the matchmaker for hundreds of brides when it comes to falling in love with their dream wedding dress. She loves getting to know each bride and hearing all about their wedding plans.
With a background in hairdressing, Finlay is the bridal stylist to speak to if you're not sure how to wear your hair for the big day – this really comes in handy when brides are considering tiaras, veils or other headpieces.
When asked whether she had a favourite memory at Roberta's bridal, Finlay replied: "I remember one particular bride who wasn't very confident in herself and didn't want to look in the mirror. Being a curvy girl myself and having had my own struggles with confidence, I understood.
We talked for a bit and I did what I could to help her feel more comfortable. I'm so glad she felt brave enough to look in the mirror because when she did, she loved what she saw. I remember being in tears by the end, alongside the bride and her family!"
Erin
Creative, crafty and with a fabulous sense of humour, Erin uses her fashion background to help the brides of Roberta's Bridal find the wedding dress of their dreams.
Since joining Roberta's Bridal in the spring of 2021, Erin has become a firm favourite with the brides for her passion, professionalism and eye for creative detail.
After studying Design at university, Erin found herself feeling thoroughly at home in the fashion industry. She loves helping brides feel amazing for their big day and feels strongly that being part of a bride's wedding journey is an incredible privilege.
Erin's love of creative crafts and sewing helps her cast a tailor's eye over the gowns, supporting brides in choosing dresses that are bursting with intricate detail or to-die-for silhouettes.
When asked whether she had a favourite memory at Roberta's bridal, Erin replied: "My Favourite moment with a bride was actually just after she's found her dream dress. Her mum gifted her with the lucky six pence that she had stitched into her dress when she got married, which had been handed down to her by the bride's grandmother.
It was so lovely to be a part of such a special family tradition that clearly meant so much."
Amy
A lover of all things bright, bold and colourful, Amy is a fashion fanatic with her finger on the pulse of the latest looks and bridal trends.
Offering each and every bride a warm welcome, Amy loves nothing more than to geek out with the brides over every detail of their big day. She has incredible taste and uses Pinterest mood-boards to scope out the perfect gown to match the vibe of the big day.
By absorbing as much as she can about a bride's vision for their wedding, Amy's able to pick out gowns that brides might never have chosen for themselves – then watch as they fall in love when they step in front of the mirror.
Having always been one to embrace and rock a bold colour, Amy would love to glide down the aisle one day in a blue A-line gown adorned with intricate floral embroidery.
When asked whether she had a favourite memory at Roberta's bridal, Amy replied: "I had a bride come in not too long ago who was struggling with low self-esteem, to the extent that she was scared to try anything on. We chatted for a bit and I reassured her that we would find her a perfect dress – and we did!
As soon as she put this dress on, she burst into tears because she felt so beautiful. I remember her saying that she couldn't believe it was her standing there in the mirror! It was an amazing feeling because that bride finally got to see what we all saw – how beautiful she really was."