Roberta's Bridal is one of Stoke-on-Trent's only true bridal experts.
We are very proud of our expertise and truly believe that the only way to achieve that perfect day is through a whole lot of listening and meticulous planning.
All of our bridal gowns, bridesmaids' dresses, flower-girl dresses, prom gowns and accessories are fully covered by our specialist wedding insurance BBRA. This means that we guarantee you will have your perfect dress on your perfect day.
All of our staff are professional and passionate creating an attentive and intimate environment perfect for any bride to be.
Our Lovely Staff…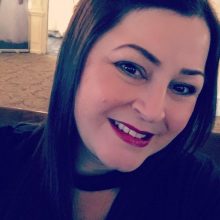 Kelly…
I'm the owner and all around opinion giver. I've been doing this since 2006 and am much better dressing others than dressing myself lol!
Fun fact about me…
I'm a self confessed stalker of a band called New Kids on the Block. (Mum's will know. Everyone Google it – or watch them in action
here
)
Dream honeymoon destination… Well that's got to be my own honeymoon. We went on a Caribbean cruise with Celebrity Cruises. It was amazing. Although I wouldn't suggest flying out the morning after your wedding I was like a walking zombie with hair that wouldn't brush out. Not the most glamorous start to the honeymoon.
I often get asked what I love best about my job, well that's easy! It's you brides. I love how excited you are about your weddings. It's infectious and I love feeling really involved in such an important decision.